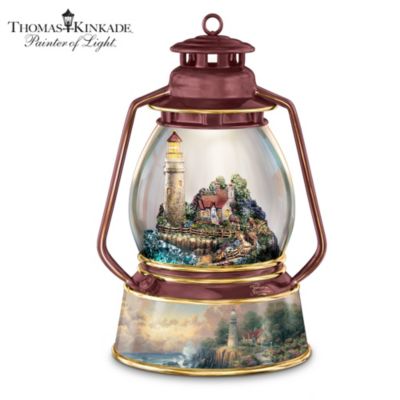 Take a luminous journey to a peaceful shore with this limited-edition first-ever Thomas Kinkade lighthouse collectible illuminated lantern, exclusively from Ardleigh Elliott.

It's unique design combines an authentic-looking lantern with a hand-blown glass shade.

Inside the glass lies a hand-painted sculptural adaptation of a beloved Thomas Kinkade lighthouse scene.

It's Heirloom Porcelain® base shimmers with bands of 22K gold and showcases even more Thomas Kinkade lighthouse art!You'll be amazed by the details of this unusual lighthouse gift! It's lit from within by a glowing light at the top of the lantern.

Just above the base you'll see Mr.

Kinkade's signature, reproduced in gleaming gold.

It even plays "Somewhere Out There." A dramatic addition to your Thomas Kinkade collection or a special collectible Thomas Kinkade gift, but you must hurry.

Heavy demand is expected - order now!